Hungry consumers are using Google to search for restaurants like yours, every second, every day. In fact, every month, there are over 5 billion searches on Google for restaurants.
Customers need information about your business, such as your address, phone number, hours of operation and, what's on your menu, to be able to make a decision to dine with you.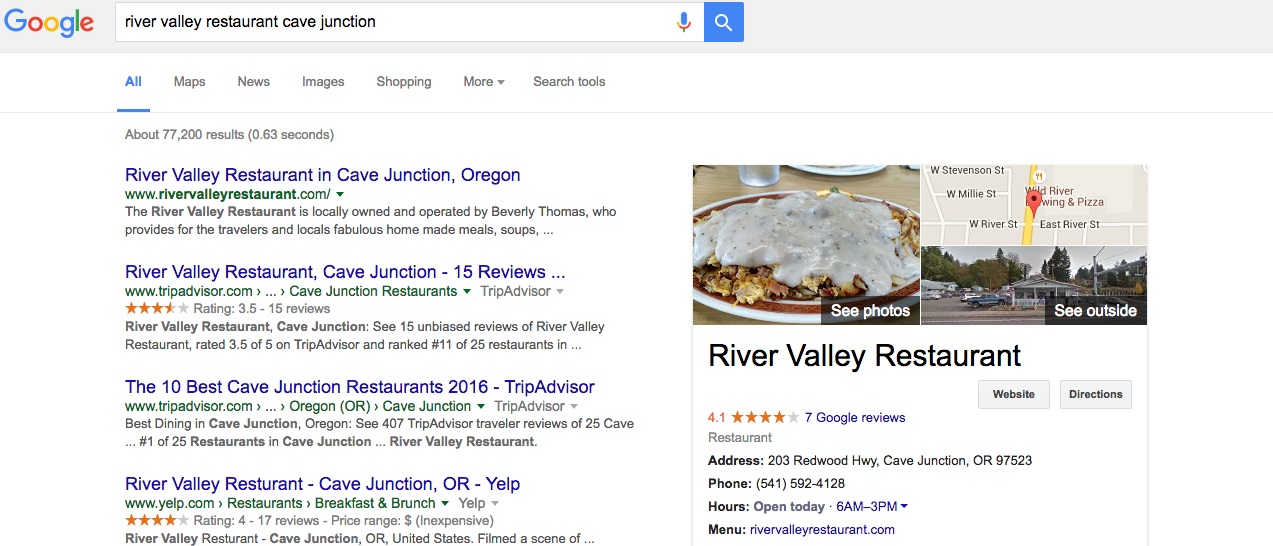 With location services, Google can help customers find what they crave in their area. In the last two years, searches for phrases like "near me now" have grown 150%. These searches are the exact points of decision when consumers are looking for a restaurant to dine at immediately. 
Good news: among smartphone users, 84% of those "near me" searches are for food.
Customers don't want to have to wait until after they've driven to a restaurant, stood in line, and been handed a paper menu to be able to look over their options. They want to know now if a restaurant has the dish they're looking for — they need quick, convenient access to relevant information online, or they'll choose to dine somewhere else. It's imperative to update your online menus and appear in map and organic search results, so you don't risk losing customers
How can you control this information about your restaurant and ensure your customer's journey?
Why Do I Need Google My Business?
Google My Business is a "free and easy-to-use tool for businesses and organizations to manage their online presence across Google, including Search and Maps." Using this tool can help drive more people into your restaurant. 
When customers use Google to search for a menu item or restaurant type on their smartphones, the results they see are powered by information included in your Google My Business profile. Users can click on your business listing to see your full menu, hours, and reviews.
Google My Business gives potential customers a quick look at your restaurant that can nudge them in the right direction to decide to order or visit your business. Even if you have high-quality food on your menu with out-of-this-world flavor, you're losing out on potential customers to competitors by not listing your menu and other important information online. 
Getting Started with Google My Business
The first step is to add or claim your business on Google My Business. Put yourself in the driver's seat and get more control over the information customers find about your restaurant. If you haven't already, create a Google My Business account and search for your restaurant's address. 
From there you can choose a category — the options "food and drink," "health and beauty," and "services" allow you to create a menu as long as it hasn't already been provided by a third party. 
Once you've claimed your listing, sign into your Google My Business account and click "info" from the menu. From there, you can update information like your business name, website, and most importantly, your menu.
According to Google's internal data, "The average Google listing that has been well-maintained with Google My Business gets 5X more views than listings which haven't been claimed by their owners." They also report that "consumers are 38% more likely to visit and 29% more likely to consider purchasing from businesses with more complete listing info.
Businesses with complete listings are 2X as likely to be considered 'reputable.'"
The Time-Consuming Process of Menu Updates
Under the "info" tab on Google My Business, you should see a menu or services icon that allows you to add or edit services. Group items or services into sections — like entrees, appetizers, sandwiches or catering— to keep your menu organized. 
From there, you can manually type in the item name, price and a brief description. When customers find your business listing on Google, they'll see your menu items listed under either "Menu" or "Services."
If you have a comprehensive menu with lots of options, this can take hours to type in. Then, every time you make an update to prices or offer seasonal specials in the restaurant, you'll need to also update your online menus on Google My Business.  Additionally, customers will need your menu information on other major discovery sites like Facebook, Tripadvisor and Yelp and you'll make sure you're updating them as well. 
Making all those changes to your online menus is time consuming. This will mean spend more time away from running your restaurant to update your online menus It takes an enormous effort to track down all of these listings, check them for accuracy and make all the updates. 
Software like SinglePlatform doesn't just update your Google My Business for you. SinglePlatform can handle all of your changes everywhere — on your website, Google, and top websites like FourSquare, Yelp and many more — so you can focus on running your restaurant. Just send us your updates and we'll do it all for you.